The trends in assets management in industries and infrastructures like energy extraction/generation are looking for innovations that optimize efficiency and minimise costs with the added value of managing risks and improving safety at operational levels. To this respect, data smart asset-based services are now a set of solutions available for a wide spectrum of applications not only in the industry, but also in AECO sector, and, in the Building Management Services sector. To support the devices and instruments that collect, digest, and exchange massive data, Digital Twin brings all the disciplines and experts together, providing powerful analyses, insight and diagnostics that are crucial for decision-makers, infrastructure managers and also for different stakeholders creating business opportunities. The future of the connected building including "home" industry is huge and it goes beyond thinking on connected homes. Building digital twin involves both technology (machines and sensors) and humans' interaction; it means bridging both physical and digital worlds. Software-industrial companies are connecting these two worlds with internet-enabled devices to improve life comfort and predict or solve everyday problems.
The digital twin integrates data from many different sources and use software products processing such information. Data smart asset solutions are a key to reducing operational costs. The Digital Twin is a concept that will enhance information management and collaboration, where the experts can work together, preventing costly mistakes and rework.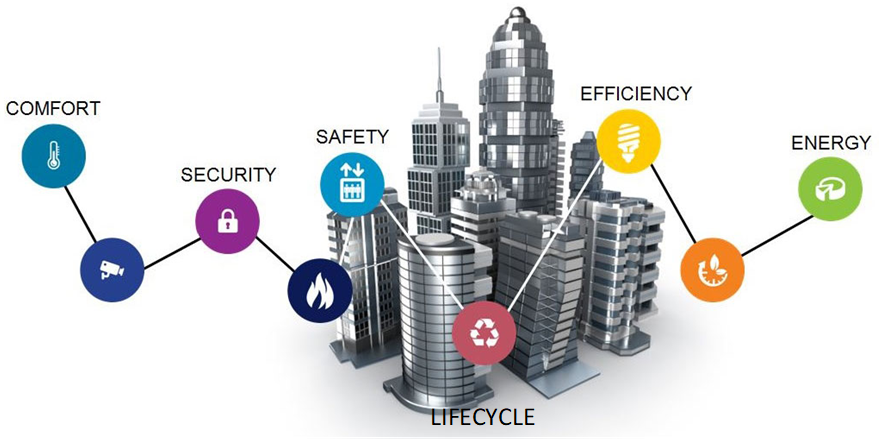 The way how Digital Twins through connected devices put several experts and disciplines in a common arena is as follows:
The use of a cloud-based platform where all data and analyses are available at any times (SPHERE Ecosystem, the main result of SPHERE project, which is being implemented by NEANEX, VRM and IDP)
Updated throughout the lifecycle with real-time information
Collaboration platform that prevents working in islands
Early comprehension of potential risks and conflicts enhance efficiency
The Digital Twin addresses the traditional weakness of poor information management (information created and not used) and simultaneously provides the platform to fully harness the vast increase in real and near real-time data that is now economically and technically viable to collect (sensors, IoT, etc.) and process (software, algorithms, representation, etc.). Within the SPHERE project, the Digital Twin will be a single source for all asset information, including physical properties, use and performance certificates from occupancy, construction inspections and acceptance tests, the building status and health, energy demand history and projections, risk levels, remaining life estimate and structural reliability. Via IoT technologies (connected devices) and data historians, the Digital Twin will also provide dynamic updates on conditions and occupancy parameter states.
Nowadays, smart devices are intelligent, but they still need human intervention and lack situational awareness. SPHERE project will demonstrate that with Building Digital Twin technology, there exists the potential to make devices smarter giving the chance to observe real life patterns in our homes or buildings and can start creating and constructing intelligence into the controls. Building Digital Twin only becomes a twin if it has automated or semi-automated for example, in thermal management control. In this regard, initiatives like the 2018 revision of the European Energy Performance of Buildings Directive (EPBD) which promotes smart building technologies through the establishment of a Smart Readiness Indicator (SRI) for buildings, paves the way to achieve Twins through the future Smart and Connected Buildings. Technology is available, knowledge is mature, and regulations are ready, the next step is to bring the Digital Twin ecosystems to our ordinary life through IoT and sensors.
Written by Sergio Velasquez, from IDP