Needs of the Asset Owner
For Public Asset Owners it is a legal demand to be aware of the current state of all assets. This, in order to be able to allocate budgets or to guarantee the safety of the built environment.
To register all necessary information, throughout the assets' lifecycle, organizations apply different types of software like CAD, GIS and PLM, and different combinations of suppliers like Ultimo, Autodesk, SAP, Relatics, etc.
Since every software supplier has its own way of storing data, or even proprietary file formats, data exchange becomes a real challenge and data transactions become very expensive through:
Omitted data between the different project stages.
Time loss to enrich information over and over again in different software applications.
Ad hoc project developments to migrate data from one stage/application to another.

Data Exchange (Interoperability)
Asset Owners and Operators receive, ideally, all 'design' and 'as-built' data ready to consume for their own applications from the contractor. In order to achieve this, the receiving party defines which data they require and how they want to receive that data. These prescriptions are typically described in a so-called Exchange Information Requirements (EIR).
An EIR typically exists out of 2 components:
An Object Type Library (OTL)[1]: describes all types of assets and the according criteria (properties, attributes, etc.) which are being applied during operations and maintenance.
An agreement about the exchange format and how the exchange is facilitated (information carrier).
When a contractor classifies an individual asset, for example "this light post", is of type "light post", with criteria defined by the client, it should be easy for the contractor to derive all those criteria (e.g., height, color, maintenance frequency, etc.) to enable the according data delivery and guarantee acceptance of the data delivery.
Neanex Portal
The Neanex Portal serves as a Digital Asset Register (or Configuration Management Database – CMDB) that manages all relevant asset information throughout all life cycle stages. By doing that in a semantic way, based on open standard ontologies, the Neanex Portal facilitates easy and lean data transactions and handovers between various teams and between the project stages.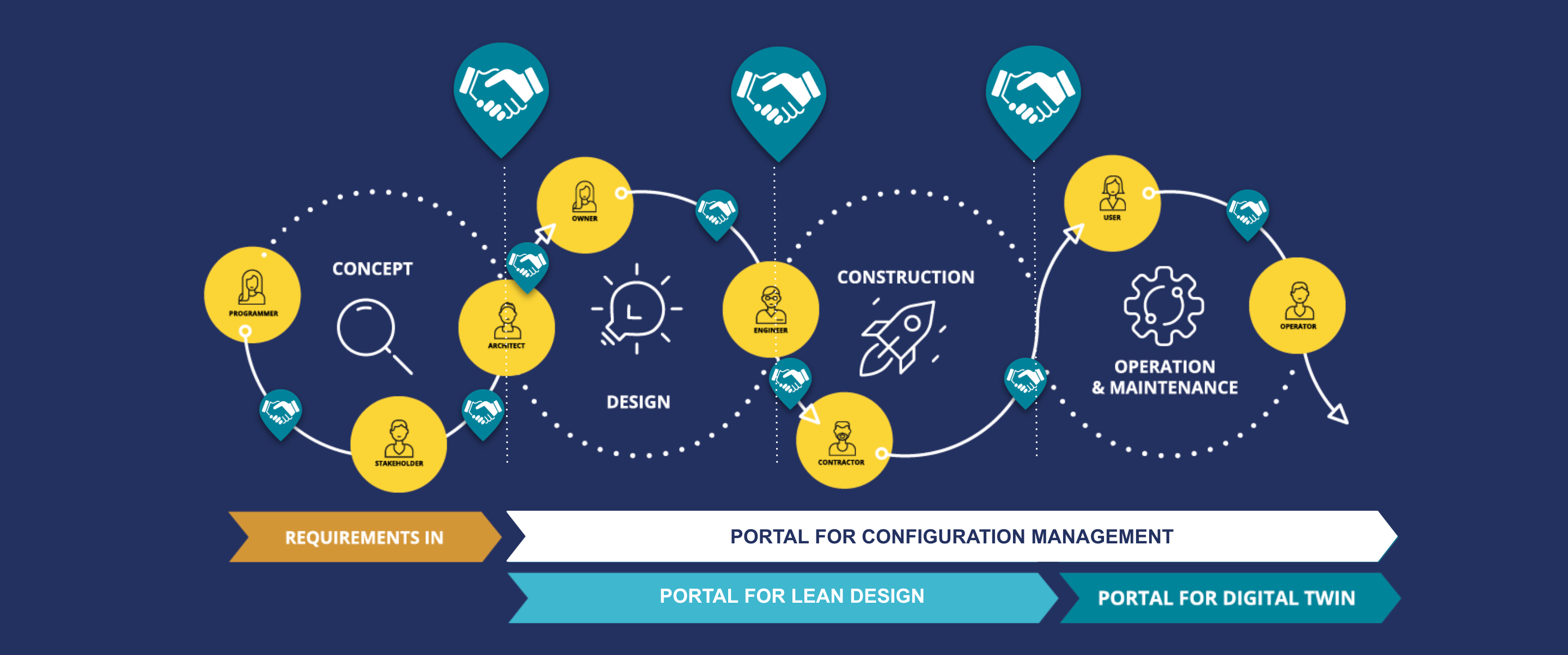 How does it work?
Neanex Portal contains a 'twin' representation of the real physical building which can be navigated in 3D and presents all necessary information on individual assets. It allows owners, design firms, and contractors to consider the information needs of other parties within the assets' lifecycle and to share data with one another.
This integral approach for information management ensures no loss of data and knowledge between lifecycle stages, accurate and up-to-date information on asset performances, as well as easy to access and navigate data despite sources and systems being scattered.
The Portal offers functionalities to use Object Type Libraries, in order to identify which data is required by other parties, update an asset registered during the asset's lifecycle and distribute up-to-date information to various software applications. Regardless of whether these applications are used by the supplier, partner or client.
The Neanex Portal includes several add-ons as well for CAD-software (e.g., Revit) to easily classify all CAD-objects applying Linked Data. Linked Data is an open standard to store and distribute data to any software application via open protocols for the Internet. The Neanex Portal is integrated with Laces (a Linked Data Platform of Semmtech) where all kinds of data sources (libraries) are published and distributed using this open standard.
When a model is being transferred from CAD to the Neanex Portal, assets/objects are easily being enriched with any data from different sources. Think of quality inspection data, product catalogs, pricing, etc.
In case of data deliveries to the asset owner/operators, following steps need to be taken:
The asset owner/operator shares the EIR (and OTL) with the engineers and contractor,
Engineers and contractors classify all objects, directly from within CAD, using the Neanex Portal add-ons,
The Neanex Portal derives all required criteria for handover,
Enrich criteria automatically from different sources and/or applying bulk-actions (many individuals in one go),
Share all published data to the asset owner/operator.

The Neanex Portal is unique compared to other software because of:
An easy-to-use 3D visualization and navigation,
Combining different sources with "one-click" (e.g., OTL's)[2],
Fast and traceable data enrichment (add-ons & bulk edits),
Delivering data according to the EIR-standard[3].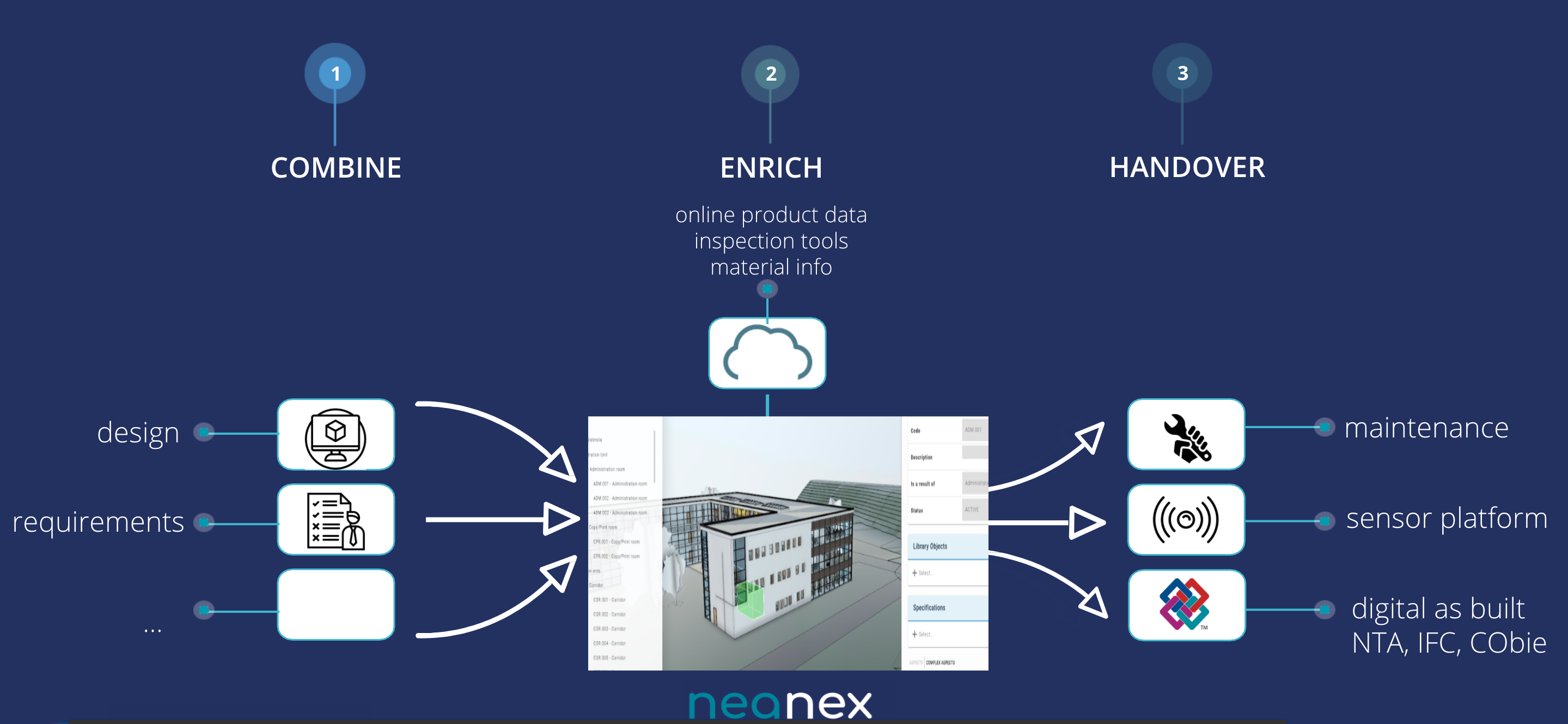 The Neanex Portal combines different information coming from Req. Mgt, Design, DMS, QA/QC, etc.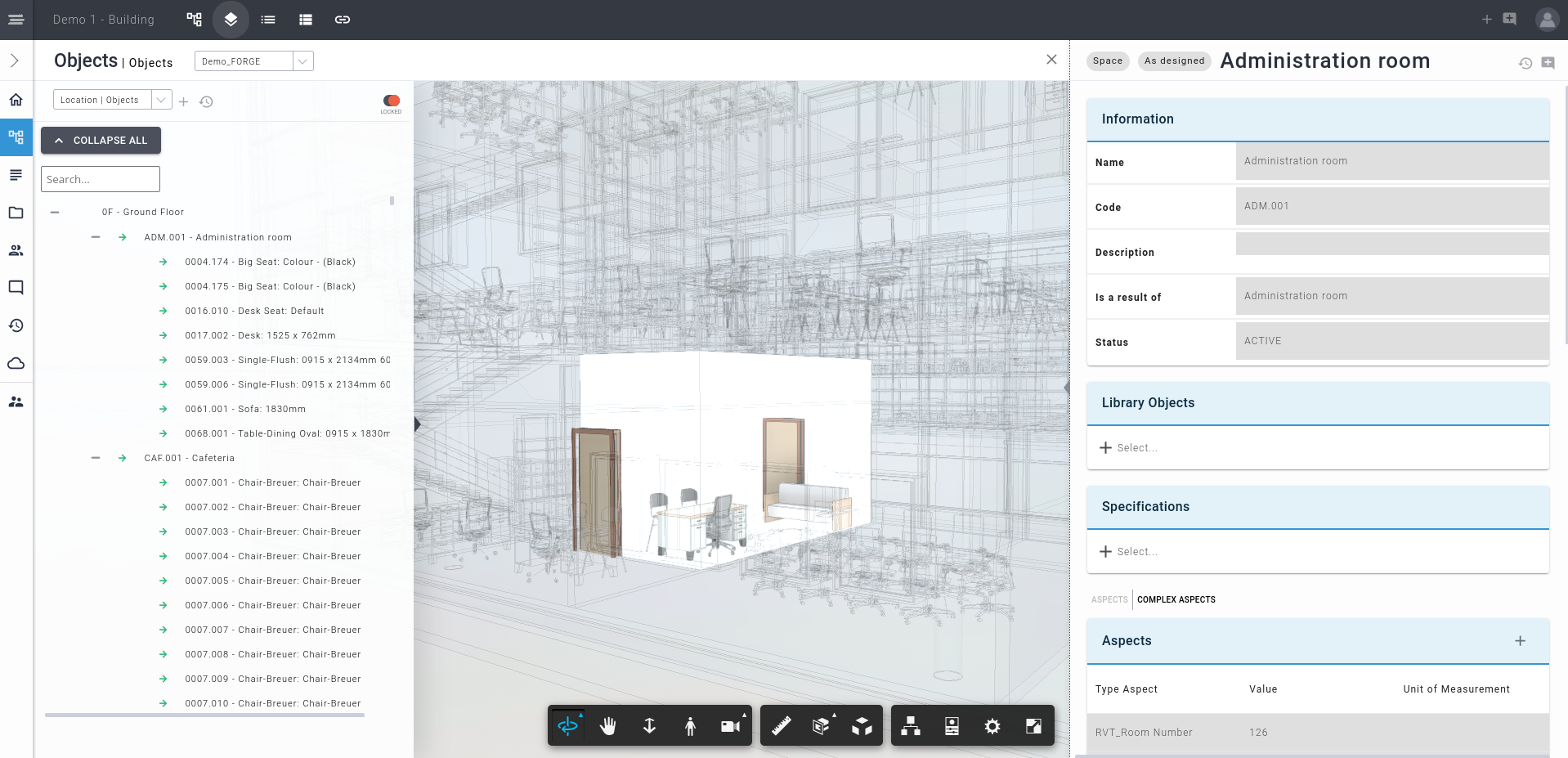 Access combined information using easy navigation with personalized breakdowns and a 3D viewer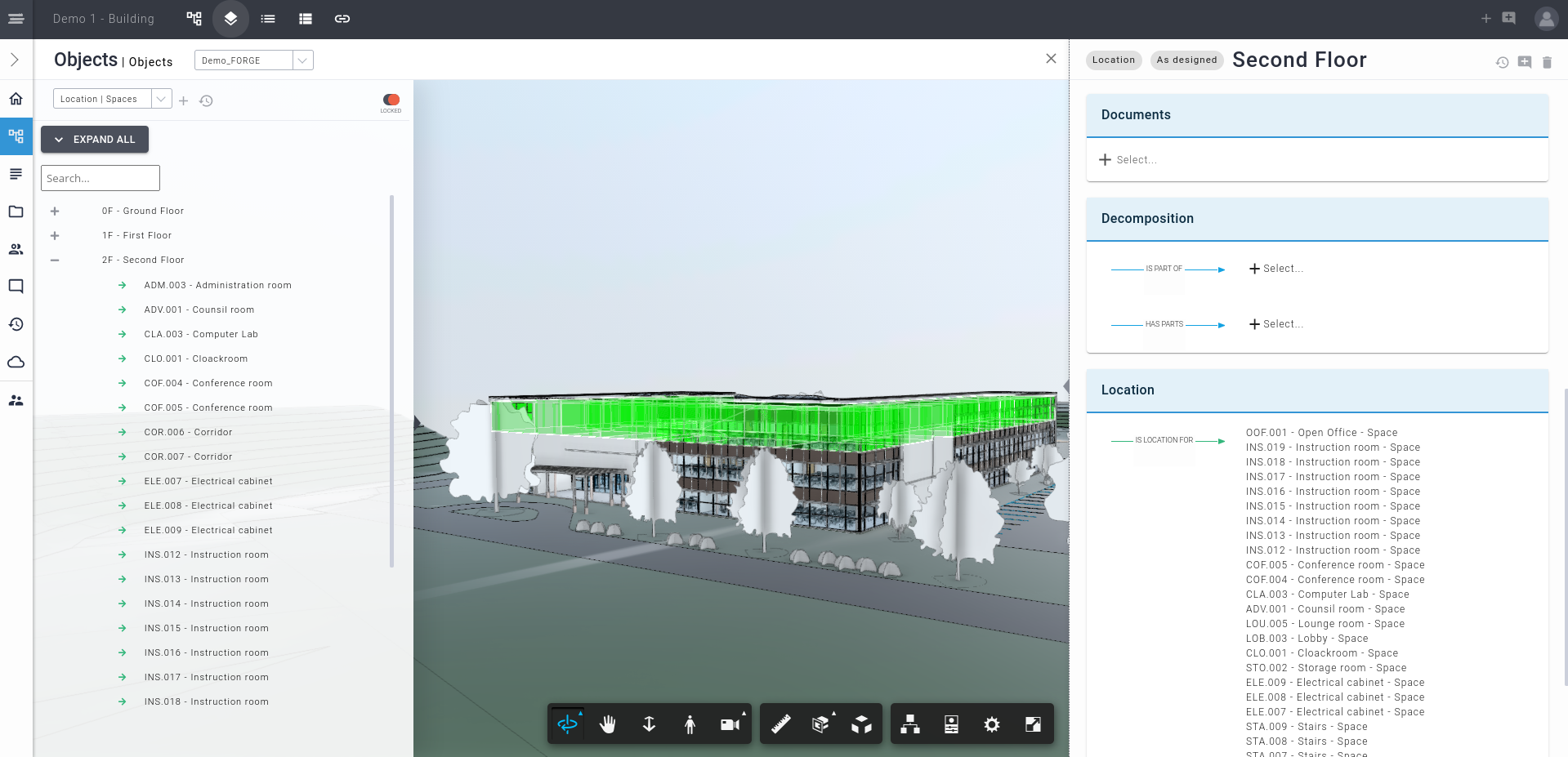 Access combined information using easy navigation with personalized breakdowns and a 3D viewer
Neanex Portal in a Digital Twin Proposition
Digital Asset Register is the static version of a digital twin to state it in a simple way. Connect information from different sources relevant for this specific asset throughout the project lifecycle. This register provides the single source of truth.
As the information is static after construction is finished, a Digital Asset register can open up possibilities towards populating and connecting with dynamic IoT or sensor platforms. Information can be hand over seamlessly into Facility Management Systems, Lifecycle Assessment tools or core systems for aggregated information.
A digital asset register is the starting point for being smart asset ready or digital twin ready from day zero.
Written by Josefien Vanhuyse and Peter Imbrechts, from NEANEX, and Daan Oostinga, from Semmtech
---
[1] Also known as RDL, Reference Data Library of Data Sheet Library.
[2] The Neanex Portal can derive information out of online available Linked Data, expressed in an Open Standard. Not only OTL's, but also requirements libraries and product catalogs.
[3] EIR standards, Exchange Information Requirements.