The challenge of renovations in Europe is perhaps the biggest challenge for the AECO sector. Because the existing building stock is changing too slowly, the European Commission just launched its Renovation Wave Strategy. This strategy aims to boost the sector to transform existing buildings in using less energy on the path to climate-neutrality, and to rapidly reduce the 34 million Europeans living in energy poverty, mostly due to high heating costs. If this problem was not enough, a lot of people are also living (and now with COVID-19 working) in unhealthy homes, with 1 in 6 Europeans living in homes that have long-term impacts on health, and 26 million out of 79 European children growing up in such homes, based on surveys done by Velux. The figures are scary, and it should not be like this, so we need to work hard to solve these problems.
Unfortunately improving the scale at which renovations are carried out is easier said than done. The AECO sector needs to go into a hyper-renovation mode, however, there are many barriers to this! The partners in the SPHERE H2020 project think a key part of the puzzle is the opportunity of Digital Twins for renovations. A Digital Twin of a building represents the physical state of it from many digital angles. Not only with the created data from building design and construction, but also from sensor measurements and simulated modelled data, across all life cycles. More information on Digital Twins in the AECO sector can be found in the first SPHERE White Paper on Digital Twin Definitions (English version; Spanish version).
The opportunities for Digital Twins are numerous. In SPHERE three opportunities highlighted below, among others, are being advanced in this context for the renovation of existing buildings, with tools that are now ready and about to be tried and tested: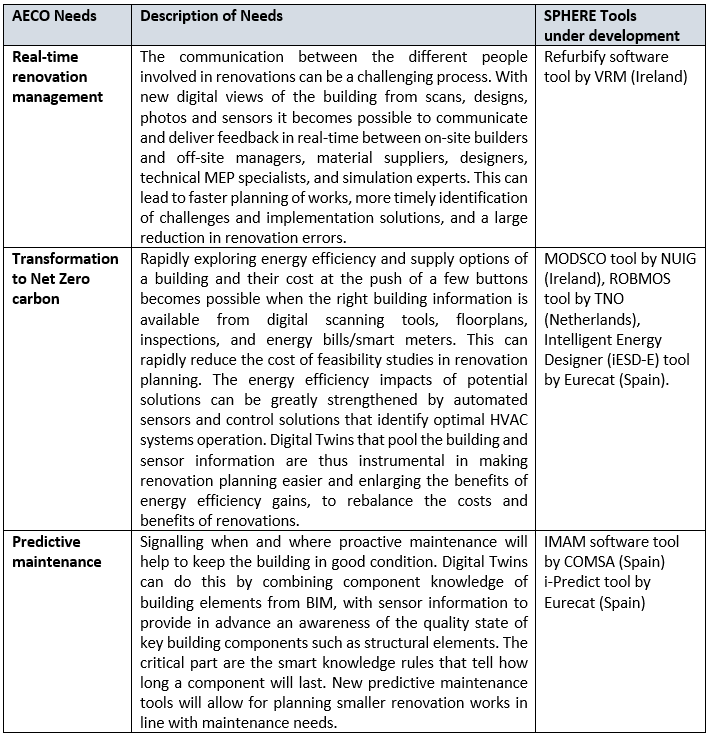 The digital twin data-streams along with the tools described in the table above will be tested in two SPHERE renovation pilots: an apartment building constructed in 1993 in Finland and a recently built retail building in Italy. The pilots will provide a deeper understanding of the benefits of using Digital Twins for SMEs active in building renovations in Europe. This is not only to validate that renovation costs can be driven down by at least 15%-20% but also to see how the quality of renovations can be improved by making the life cycle phases of the building ''talk'' to each other. Once concluded in SPHERE in the course of next year a perspective on how easy it will be to use Digital Twins in the day-to-day practice of renovations will emerge and what gaps still remain identified. "Jackie Niam/Shutterstock.com"
Written by Rembrandt Koppelaar, from EKODENGE